So this week, writing was a bit hard. I have always considered writing to be cathartic and also a huge pain in the ass. Don't get me wrong, I love the career path that I have chosen but come on, I could have chosen one that doesn't involve delving deep into my brain and pulling out all of my inner secrets and sharing them with the world. Okay, I could have just not written memoir. But, at the end of the day, I think that talking about dealing with mental illness and putting in my hand to stop the stigma that surrounds it is more important than my struggles. It is bigger than me and it is so worth while.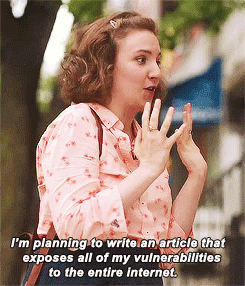 (weirdly when I was looking up gifs to put there and searched writing like every one that came back was from south park)
Back to my point of this post! On Thursday of last week, I kind of pushed myself passed the limits that I know my anxiety has set for me and I was doing okay, until I was alone. Then the attack started sinking in. I was in the middle of fighting off the attack when my #1 trigger happened to fly over me. (three guesses what my trigger is). At that point, I was consciously aware that I was going to lose it.
Sometimes, I am able to contain a flash back and it is just little glimpses and reminders, sometimes I forget completely where I am and feel like I am suffocating on my own breath. This time, I was somewhere in the middle of the spectrum. I wasn't completely gone but I could feel my surroundings slipping around me. I could feel what felt that day. Actually, this gif really helps sum up what the feeling was like
This is also my favorite gif to describe things, I feel like it is so versatile.
So now, you have a me, 9:30pm in the dark and thankfully empty parking lot behind one of the buildings on campus. I say thankfully empty because I looked mildly crazy muttering "this isn't real" to myself alone in a parking lot. That totally doesn't look insane!
I ran home and picked up my cat, Gustavvson (the world's best therapy cat) and told myself things that were real around me.
That knocked me out for most of the weekend because, while my body was not tired, my brain was exhausted. I ended up lying on my couch watching Harry Potter all weekend because I needed some time to recover. The worst part was, I felt bad taking all that time to recover, like I didn't really deserve it. But, through it all I kept to my promise to myself: quit apologizing because of my mental illness.